News and Updates

The latest news and updates about Carolina Liquid Chemistries.
Carolina Liquid Chemistries Corp.'s Brea, CA Production Facility Honored by Spectrum Chemical Mfg. Corp.
April 15, 2022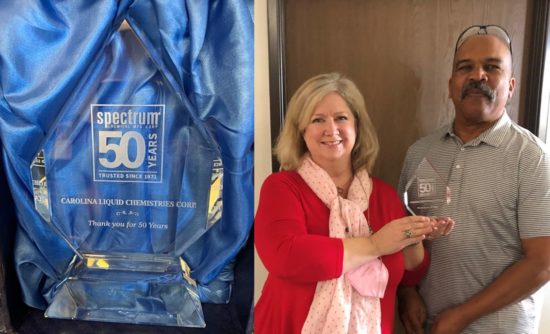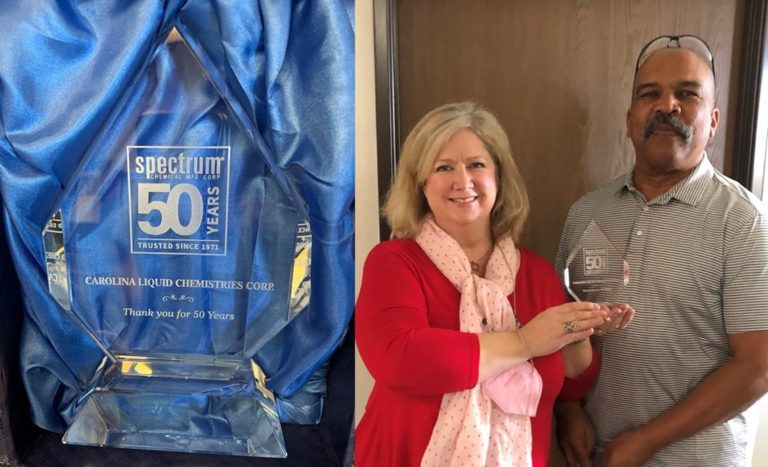 Greensboro, NC (March 22, 2022) – Spectrum Chemical Mfg. Corp. (Spectrum Chemical), a leading global provider of fine chemicals, lab equipment, and supplies serving more than 120 industries, has selected Carolina Liquid Chemistries Corp. (CLC) as one of a select group of customers to receive a special honor in celebration of Spectrum Chemical's fiftieth anniversary. In February, Spectrum Chemical Senior Account Executive Gloria Franklin presented the award to CLC's Michael Lewis, Production Manager, and Laura Orlow-Kojac, Quality Assurance Manager, at CLC's production facility in Brea, CA.
Since 2003, CLC and GenChem, medical device companies owned by Philip and Patricia Shugart, have sourced fine chemicals from Spectrum for use in the production of their high quality, cost-effective reagents for use with biochemistry analyzers. These reagents are used in clinical laboratories located in physician offices, hospitals, and reference laboratories.
"It was an honor to be recognized by an industry leader like Spectrum for our commitment to high-quality reagents through the use of their fine chemicals. CLC is proud to be one of the few reagent manufacturers still located in the USA. Our partnership with Spectrum has helped us succeed for over twenty-five years and to consistently supply our customers without interruption throughout the COVID-19 pandemic. Now that CLC and GenChem have merged, we look forward to an even stronger partnership with Spectrum," said CLC's Chief Operating Officer, Patricia Shugart.
"We are grateful for our partnership with CLC," said Russell Kneipp, Chief Operating Officer for Spectrum Chemical. "We felt it was important to mark our fiftieth year in operation by recognizing those customers who have helped get us there. We admire CLC for their dedication to serving clinical labs, physicians, and hospitals."
To learn more about the products and services offered by Carolina Liquid Chemistries Corp. including clinical chemistry analyzers, general chemistry, special chemistry, drug testing reagents, and COVID-19 test kits and supplies please visit carolinachemistries.com.
About Carolina Liquid Chemistries Corp.
Carolina Liquid Chemistries Corp. (CLC), a certified Veteran Owned Business headquartered in Greensboro, NC, has its reagent production facility located in Brea, CA. This ISO-certified facility is an FDA-registered, manufacturer, re-packager, re-labeler, and value-added reseller of chemistry systems and reagents. CLC helps clinical laboratories of all sizes reduce chemistry analyzer and reagent costs, while also receiving accurate and timely results. The company has responded to the COVID-19 pandemic by providing various testing products and supplies to market under the FDA's Emergency Use Authorization. For more information, call 877-722-8910, visit carolinachemistries.com, or email [email protected].
About Spectrum Chemical Mfg. Corp.
Celebrating more than fifty years in operation, Spectrum Chemical is a provider of fine chemicals, laboratory equipment, and supplies serving more than 120 industries in 70 countries. The company offers more than 250,000 products in laboratory, scale-up, and bulk quantities including the largest selection of USP-NF-FCC-BP-EP-JP chemicals in the world. All chemicals undergo extensive laboratory testing in three state-of-the-art facilities while the company's extensive scientific documentation provides supply chain transparency and change control required for quality-driven industries. For more information, visit spectrumchemical.com.