Veterinary Automated Chemistry Analyzer
Important Documents:
Description
The SMT-120VP is a completely new compact chemistry, electrolyte, immunoassay and coagulation analyzer for animal health diagnosis producing accurate results.
Small Sample Volume
Sample volume required for analysis is only 1/10–1/20 when compared to traditional chemistry analyzers.
Easy to Carry
At only 4kg, the analyzer was designed to be portable and to have a small footprint, ensuring that it can be used anywhere at any time.
Less Maintenance
No maintenance consumables, such as tubing, pumps or valves required, which saves on maintenance expense.
Accurate Results
The SMT-120VP analyzer utilizes the photometric colorimetric principle, which is superior to the dry chemistry analyzer using a light reflection principle. The accurate rotor mould guarantees consistent test sample and dilution volumes, eliminates random error and cross contamination.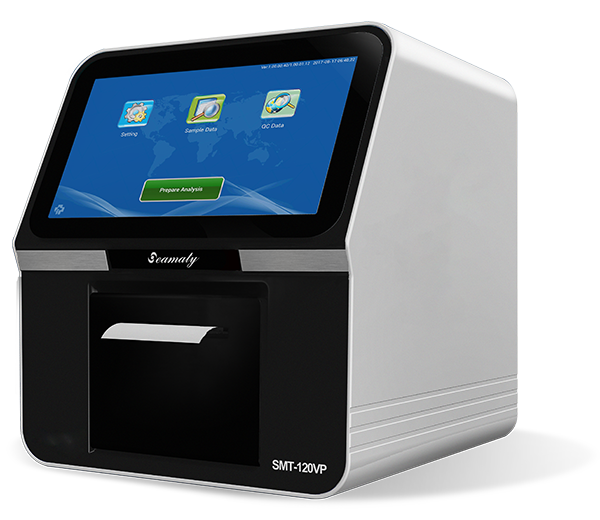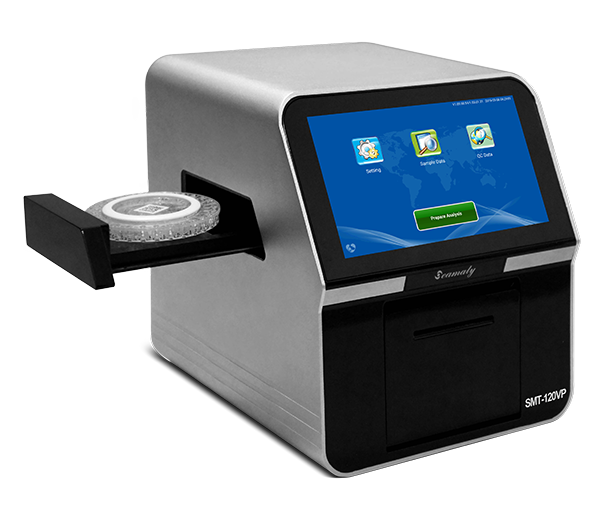 Rotors – Call 877-722-8910 for Custom Quote
Rotor Name
Item #
Description
13 Health Check Parameters
AW00085
ALB, AMY, Ca, TP, Crea, GLU, TB, ALT, AST, CK, BUN,
TG, PHOS, A/G*, B/C*, GLOB*
9 Pre-operation Test Parameters
AW00235
ALT, AST, ALP, CK, Crea, GLU, TP, BUN, LDH, B/C*
4 Coagulation Parameters
AW00650
APTT, PT, TT, Fib
23 Comprehensive Test
AW01367
ALB, Crea, BUN, LPS, AMY, LDH, AST, TP, TB, Ca, CK,
TC, GGT, TG, PHOS, GLU, TBA, ALP, ALT, GLOB*,
A/G*, B/C*, Tco2
9 Electrolyte Plus Parameters
AW01073
PHOS, Cl-, Na+, Ph, K+, tCO2, LAC, Mg, Ga
* Calculated