CLC800 Chemistry Analyzer

Cost-effective Testing for Small- and Mid-sized Laboratories
The CLC800 chemistry analyzer, a member of the CLC6410 Family of Instruments, provides cost-effective testing for small- and mid-sized laboratories. This sleek floor model fits in limited spaces to seamlessly become an integral part of your laboratory, increase productivity and provide better results. The CLC800 is quiet, small, fast and economical.
The CLC800 chemistry analyzer is an exceptional choice for laboratories and clinical laboratories located in large group practices, clinics, or small to mid-size hospitals seeking a mid-volume clinical chemistry analyzer. With the ability to process up to 400 photometric chemistry tests per hour and bar-coded sample tubes, the CLC800 gives your organization the tools to get test results quickly and efficiently.

Discrete, random access, batch and stat
Up to 400 T/H for photometric tests; 800 T/H with ISE
Bar-coded sample tubes
Bar-coded liquid ready-to-use reagents (most assays)
Accommodates one-part, two-part, and up to four part reagents
Exemplary after-sale support
Excellent for clinical laboratories located in mid-size group practices, small hospitals or reference laboratory
Cost-effective Service Contracts
Validation Assistance and Pre-site Installation Checklist
No Charge Hotline Phone Support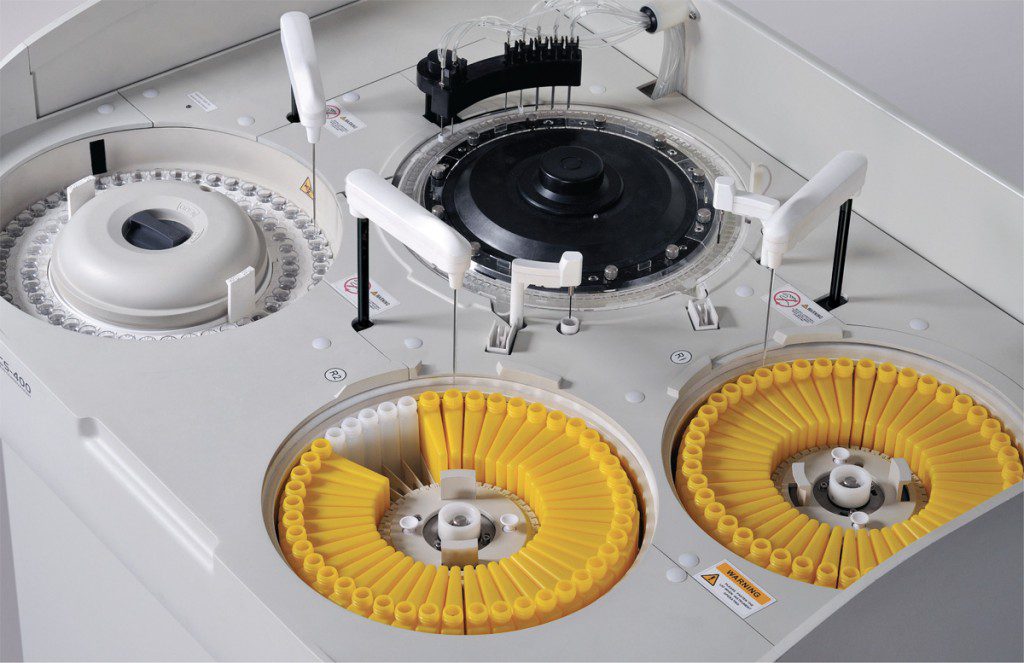 CLIA Categorized Moderate Complexity Reagents for use on the CLC800
ALB (Albumin)
ALP (Alkaline Phosphatase)
ALT (Alanine Transaminase)
AMY (Amylase)
APO A1 (Apolipoprotein A1)
APO B (Apolipoprotein B)
AST (Aspartate Transaminase)
Bilirubin, Direct – DBIL
Bilirubin, Total – TBIL
BUN (Blood Urea Nitrogen)
CA (Calcium)
Chloride (ISE)
Chloride (Photometric)
CHOL (Cholesterol)
CK (Creatine Kinase)
CO2 (Carbon Dioxide) w/cal
CREA (Creatinine)
CRPhsWR
GGT (Gamma-Glutamyl Transferase)
GLU (Glucose)
HDLD w/cal
LDH (Lactate Dehydrogenase)
LDLD w/cal
LIP (Lipase) w/cal
PHOS (Phosphorus)
Potassium (ISE)
Potassium (Photometric)
Sodium (ISE)
Sodium (Photometric)
TP (Total Protein)
TRIG (Triglycerides)
URIC (Uric Acid)

Advanced Photometric System
An advanced photometric system and a sample/reagent pipetting mechanism provide high levels of accuracy for your laboratory.
Multiple Reagent Options
The CLC800 includes two reagent compartments, 88 reagent positions and 2 other positions for eliminating off-line sample pre-treatment. One part, two part and up to four part reagents can be used.
Refrigerated Sample Wheel
A multi-function refrigerated sample wheel offers 115 sample positions and supports various tubes and sample cups.
Stand-alone Stirrers
Two stand-alone stirrers produce accurate results; these stirrers, coated with Teflon, avoid liquid suspension and reduce cross contamination.
Calibration Functionality
Robust calibration functionality enable automatic calibration and nine selectable calibration curves. QC is available with Westgard multi rules, the Levy-Jenning chart and cumulative summary.
Comprehensive Support
Pre-site surveys, installation, customer training, validation assistance and free support from a hotline all come with your CLC800 purchase. You'll get ongoing support to ensure you get the most out of your new chemistry analyzer.