DZ-Lite™ c270 Benchtop Chemistry Analyzer
Fully automated benchtop open system clinical chemistry analyzer
Carolina Liquid Chemistries provides a comprehensive menu of reagents on clinical chemistry analyzers.
The DZ-Lite c270 is an advanced benchtop clinical chemistry analyzer with a menu of FDA-cleared, moderately complex, and innovative assays made for clinical laboratories of all sizes.
Compact Size
The DZ-Lite c270 benchtop clinical chemistry analyzer is made for clinical laboratories of all sizes. The efficient, compact size is especially excellent for all small to medium-sized spaces.
Easy Implementation
This biochemistry analyzer comes with installation, training and validation assistance.
Innovative Assays
The DZ-Lite c270 is reliable, innovative, and supports 1, 2, 3, and 4-part reagent assays. This compact clinical chemistry analyzer has a throughput of up to 270 tests per hour and an extensive, innovative assay menu. All assays shown are CLIA categorized.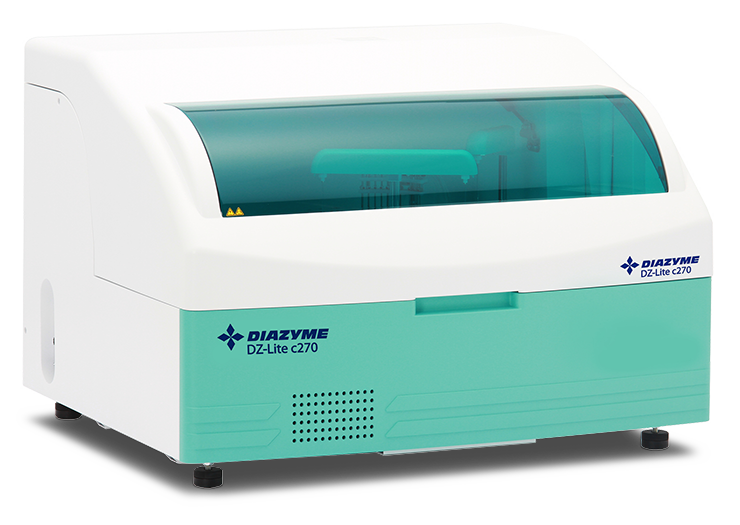 Cancer Markers
Human Kappa Free Light Chain reagent
Human Lambda Free Light Chain reagent
Cardiovascular Markers
LDL-Cholesterol reagent
HDL-Cholesterol reagent
Lipoprotein (a) reagent
Apolipoprotein A-1 reagent
Apolipoprotein B reagent
Myoglobin R1 (bulk) reagent
Myoglobin R2 (bulk) reagent
Homocysteine 2 reagent
PLAC® test for Lp-PLA2 activity reagent
Coagulation Markers
Diabetic Markers
Glycated Serum Protein reagent
1,5-Anhydroglucitol (1,5-AG) reagent
Direct Enzymatic HbA1c reagent
Direct HbA1c assay (enzymatic, on-board lysis) reagent
Electrolyte Markers
Enzymatic Potassium reagent
Enzymatic Sodium reagent
Enzymatic Lithium reagent
Carbon Dioxide Enzymatic reagent
Chloride (Photometric) reagent
Inflammatory Markers
Liver Markers
Renal / Pancreatic Markers
Creatinine liquid reagent
LIP (Lipase) w/cal reagent
Cystatin C reagent
Sepsis Markers
Procalcitonin (PCT) reagent
Vitamin Markers
General Chemistries
ALB (Albumin) reagent
ALP (Alkaline Phosphate) reagent
ALT (Alanine Aminotransferase) reagent
AMY (Amylase) reagent
AST (Aspartate Aminotransferase) reagent
BUN (Blood Urea Nitrogen) reagent
CA (Calcium) reagent
CHOL (Cholesterol) reagent
CK (Creatine Kinase) reagent
TBIL (Total Bilirubin) reagent
DBIL (Direct Bilirubin) reagent
GGT (Gamma-Glutamyl Transferase) reagent
GLU (Glucose) reagent
IRON (Iron) w/cal reagent
LDH (Lactate Dehydrogenase) reagent
LIP (Lipase) w/cal reagent
PHOS (Phosphorus) reagent
TP (Total Protein) reagent
TRIG (Triglycerides) reagent
URIC (Uric Acid) reagent
Moderate Complexity Urine Drug Testing reagents
Immunalysis 6-Acetylmorphine reagent
Immunalysis Amphetamine reagent
Immunalysis Barbiturates reagent
Immunalysis Benzodiazepines reagent
Immunalysis Benzoylecgonine reagent
Immunalysis Buprenorphine reagent
Immunalysis Cannabinoids reagent
Immunalysis EDDP Specific reagent
Immunalysis SEFRIA™ Fentanyl reagent
Immunalysis Methamphetamine reagent
Immunalysis Opiates reagent
Immunalysis Oxycodone reagent
Immunalysis PCP reagent
Immunalysis Tramadol reagent
Order the DZ-Lite c270 benchtop chemistry analyzer from Carolina Liquid Chemistries. Call 877-722-8910.