miniiSED® Fully Automated Erythrocyte Sedimentation Rate (ESR) Analyzer

Minimize the Hassle of ESR Testing in Your Lab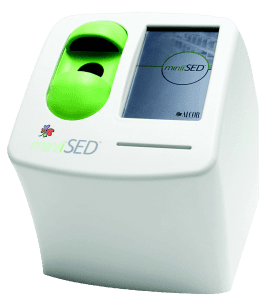 STAT results in only 15 seconds
Fully automated from primary EDTA tubes
100µL sample volume
No exposure to patient sample
Ideal compact size
High correlation to Westergren method
Easily interfaces to LI
Overview
Erythrocyte Sedimentation Rate is a clinical laboratory test that measures and analyzes red blood cells as an indicator of inflammation, as well as to the patient's response to medications, such as chemotherapy or steroids.
The miniiSED® is the newest addition to the ALCOR family of Erythrocyte Sedimentation Rate (ESR) analyzers from ALCOR Scientific. The miniiSED® measurement of ESR is fast, accurate and unaffected by variables associated with traditional methodologies, such as hematocrit. This single position, fully automated ESR analyzer works directly from primary EDTA tubes or BD Microtainer® MAP Microtubes, requires 100 microliters of sample, has an internal barcode reader, and produces stat results in 15 seconds!
This compact fully-automated ESR analyzer utilizes photometric reading to quantify the Rouleaux formation, which is the earliest and most critical phase of sedimentation. miniiSED's micro-flow cell captures the critical kinetics of RBC in highly controlled testing environment to produce ESR results in 15 seconds. The analyzers results are unaffected by the variables commonly associated with traditional ESR testing methods. Some of these variables include hematocrit, MCV and temperature.
The miniiSED® is the ideal ESR analyzer for emergency rooms, POLs, and small hospital laboratories.
Erythrocyte Sedimentation Rate (ESR) products from ALCOR:

iSED® Fully Automated ESR Analyzer

miniiSED® Fully Automated ESR Analyzer

SEDITROL® Quality Control

miniiSED® Reviews in SelectScience®
Notable Health Groups using iSED®/miniiSED®:
ACL Laboratories (WI) – iSED/miniiSED
Bon Secours Mercy Health (OH) – iSED/miniiSED
SSM Health (MO, WI) – iSED/miniiSED
Sanford Health (ND, SD) – iSED/miniiSED
OSF Healthcare (IL) – iSED
Duke Health (NC) – iSed/miniiSED
UPMC (PA) – iSED
Partners Healthcare (MA) – iSED/miniiSED
Lifespan Health (RI) – iSED
AdventHealth (FL) – iSED
Kaiser South (CA) – iSED
| | |
| --- | --- |
| Principle of Measure: | Photometrical rheoscope |
| Analytical Range | 1-130 mm/hr |
| Sample Requirements: | 100µL whole blood (500µL dead volume) |
| Tube Requirements: | 13 x 75 mm, test tube in EDTA anti-coagulant, capped |
| Quality Control: | Barcoded Seditrol® QC |
| Barcode Reader: | Internal |
| Interface Specifications: | Serial RS232 port for LIS connection |
| Weight: | 4.445 kgs / 9.8 lbs |
| Dimensions (H x W x D): | 24 x 18 x 26 (cm) /9.5 x 7.1 x 10.4 (in) |
| Voltage: | 100-240VAC |
| Frequency Range: | 50-60 Hz |
| Power: | 60W |
Benefits
STAT results in 15 seconds:
Simply insert the primary EDTA sample tube in the sample entry port and walk away. This ESR analyzer will have results ready for you in 15 seconds instead of 15-60 minutes as when using traditional methods of ESR testing. The miniiSED® has a maximum throughput of 180 tests per hour.
Fully automated from primary EDTA tubes:
No more graduated pipettes, special cuvettes, duplicate sample tubes, or sample transfer disposables! No longer generating contaminated waste, miniiSED® offers a decreased cost of ESR testing. In addition using closed-container sampling technology there is no staff exposure to patient sample.
100µL sample volume:
The miniiSED® requires a sample volume of only 100 microliters of whole blood! There is no need to waste time drawing two EDTA tubes or a designated disposable tube. The small sample volume makes the miniiSED® the perfect ESR analyzer for pediatric and geriatric patients. Compatible with BD Microtainer® MAP Microtubes.
Compact size:
The miniiSED® saves you space on the lab bench or in the office. In fact the analyzer takes up about as much room as your office phone.
Positive patient identification via internal barcode reader:
The miniiSED's internal barcode reader assures all samples are correctly identified and tracked. The analyzer easily interfaces to LIS systems.