CLC6410® Modular Chemistry Analyzer

Designed for Large Hospitals and Reference Labs
[download id="6646″ template="dlm-buttons-download-brochure"]
[dlm_gf_form download_id="6646″]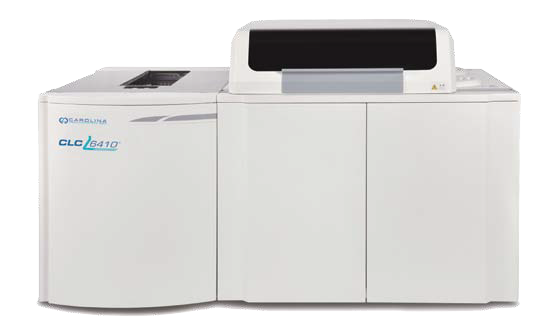 Designed for large hospitals and reference labs, the FDA-cleared CLC6410 allows for high volume analysis. Expand your throughput from 1,600 tests per hour in a single module to up to 6,400 tests per hour with four modules. This model delivers a maximum ISE throughput up to 960 tests/hr and offers advanced automation features for more efficient use.
The CLC6410 modular chemistry analyzer, designed for large hospitals and reference laboratories, allows throughput to expand from 1,600 tests per hour in a single module to 6,400 tests per hour in four modules. Maximum ISE throughput up to 960 tests/hr. This product is often compared to leading chemistry analyzers from Olympus and performs at exceptional levels.
Compare our CLC6410 to the Olympus AU5810 to find out why the CLC6410 is a powerful and cost-effective alternative to the Olympus AU5810.

3 lanes for immediate reruns and stats
Simple software, Low maintenance and superior on-site service
Operator training and validation assistance included
Large Capacity Sample Loader and Track
Advanced Photometry System
Stable Temperature Control System
Accurate Sampling System
High-Efficiency Rinsing System
Module Integration for Continuous Workflow
Cost-effective Service Contracts
Validation Assistance and Pre-site Installation Checklist
No Charge Hotline Phone Support
CLIA Categorized Moderate Complexity Reagents for use on the CLC6410
ALB (Albumin)
ALP (Alkaline Phosphatase)
ALT (Alanine Transaminase)
AMY (Amylase)
AST (Aspartate Transaminase)
Bilirubin, Direct – DBIL
Bilirubin, Total – TBIL
BUN (Blood Urea Nitrogen)
CA (Calcium)
Chloride
CHOL (Cholesterol)
CK (Creatine Kinase)
CO2 (Carbon Dioxide) w/cal
CREA (Creatinine)
GGT (Gamma-Glutamyl Transferase)
GLU (Glucose)
HDLD w/cal
LDH (Lactate Dehydrogenase)
LDLD w/cal
LIP (Lipase) w/cal
PHOS (Phosphorus)
Potassium
Sodium
TP (Total Protein)
TRIG (Triglycerides)
URIC (Uric Acid)

Comprehensive Support
Pre-site surveys, installation, customer training, validation assistance and free support from a hotline all come with your CLC6410 purchase. You'll get ongoing support to ensure you get the most out of your new chemistry analyzer.
Temperature Control
A stable temperature control system offers direct heat release. A constant temperature system ensures that reaction cuvettes are evenly heated to reduce the influence of ambient temperature without the need to preheat reagents.
Powerful Operating System
A powerful operating system boasts a range of characteristics, including built-in troubleshooting guides, a convenient and efficient data dictionary, real-time online technical support, user friendly interfaces and report customization capabilities.
Large Capacity
A large capacity sample loader and track enables auto-track loading for greater efficiency and productivity. The large capacity sample loader can hold up to 30 sample racks (300 samples). STAT function offers quick access for samples.
Independent ISE Modules
Optional, independent ISE modules can run 480 tests per hour per module with a maximum throughput of 960 tests per hour, and offer indirect simultaneous measurement of K+, NA+ and CL-
Built-in Monitoring
Built-in monitoring and calculating functions check for linear limits, reference limits, substrate depletion and excess antigen. The product includes serum indices for hemoglobin, lipemia and bilirubin, and user-defined carry-over settings.
Advanced Photometry
An advanced photometry system offers cluster-condensing light technology for microvolume analysis and reduced reagent consumption. Air cooling extends the life of the light source and precision design eliminates signal attenuation and interference.
High Precision
A long-life, high-precision ceramic piston ensures high precision of sampling and a low maintenance cost.
Polished Probes
Polished probes with nano processing technology effectively reduce cross-contamination.